Netskope, a global cybersecurity leader, is redefining cloud, data, and network security to help organizations apply Zero Trust principles to protect data. The Netskope Intelligent Security Service Edge (SSE) platform is fast, easy to use, and secures people, devices, and data anywhere they go. Netskope helps customers reduce risk, accelerate performance, and get unrivaled visibility into any cloud, web, and private application activity. Thousands of customers, including more than 25 of the Fortune 100, trust Netskope to address evolving threats, new risks, technology shifts, organizational and network changes, and new regulatory requirements.
Reimagine Your Perimeter
Netskope are the only security vendor that will accelerate your digital transformation journey with a proven security platform that is data-centric, cloud-smart, and as fast as your business.
Cloud security that is data-centric
The rapid adoption of cloud apps, services, and mobile devices has resulted in data going to places where traditional security technology is blind. Netskope takes a data-centric approach to cloud security, following data everywhere it goes. From data created and exposed in the cloud to data going to unmanaged cloud apps and personal devices, Netskope protects data and users everywhere
Cloud security that is cloud-smart
Cloud usage dominates the web, with cloud services making up the majority of enterprise web traffic. Securing this environment, without slowing down the business, demands a new security model based on contextual knowledge of the cloud. Netskope enables you to take advantage of our intimate, contextual understanding of the cloud to apply effective security controls that enable you to safely use the cloud and web.
Cloud security that is fast
When it comes to security, performance and scale are often the biggest challenges. Reliance on the public Internet to deliver inline security causes performance challenges, and an appliance-based approach to deploying security does not scale. Netskope delivers real-time, cloud-native security, without the traditional performance trade-off. As we continue to build one of the world's largest and fastest security networks, you can be certain your security is always on, always present, and never a roadblock.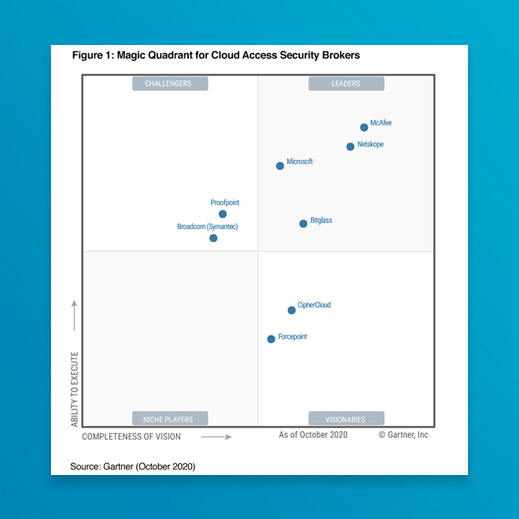 2020 Gartner CASB Magic Quadrant Leader
For the fourth consecutive year, Gartner has named Netskope a "Leader" in the Magic Quadrant for Cloud Access Security Brokers.
Netskope provides a cloud-native, global platform that converges multiple security technologies such as CASB, SWG, DLP, ATP, ZTNA and more to effectively protect organizations from advanced threats and data loss, regardless of user location. Netskope Threat Protection is a key differentiator based on multiple integrated technologies and services, including anti-phishing, anti-malware, UEBA, extensive threat intelligence and more.